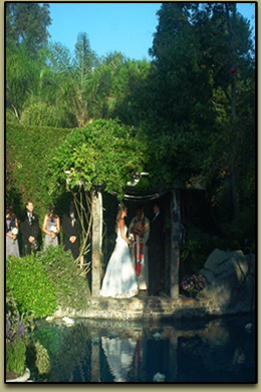 The wedding pictured above was one of the most memorable to me, because their ceremony was for two people whom I had known Betts Huntley, my brother, framed the picture in the canopy surrounded by the natural world. He caught the beauty of the bride, who looms out onto the pool, and he put the groom hidden in the shadows, where many grooms feel at weddings. The wedding is described in the "decades" by clicking "Christine Dietrich"
Want to go to a wedding with me? I got to revisit about 100 weddings in recent years, most of which I conducted and others to which I was invited. In one section "Weddings around the World," I mostly imagined weddings I might have wished to attend.
Most of the weddings were ones I performed, or acted out another role, as bridegroom, a best man, a camera bearer, a stable boy, or a "crasher." A few I visited in a space ship that defied both distance and time. The film "Wedding Crashers" was an oblique inspiration, for often I felt as puzzled as the priest in that film. Dr. Martin Luther King's last sermon was a more direct inspiration as I recalled King's imagined travels with the Almighty, looking for a place and a century in which he would be assigned to work.
There are weddings discussed took places in churches, on mountains, by beaches, and in homes. Some of the weddings led to anniversaries of fifty, twenty or ten years. One led to a marriage when ended only two hours after the wedding ceremony in a dispute at the reception.ome of the weddings did not last as long as the vows promised, for sometimes paths diverged for lovers who promised to stay "together forever." The comments herein are never intended to be judgmental of what happened after ceremonies concluded. Usually, I tried to tell all who came to me for advice that in ancient times for Babylonians or Jews, Muslims or Christians, however joyful a wedding might be, there was always a possibility of an end. By contrast, I read that some Japanese expected to be together for two lives, not one; the first was to prepare for the second; or the second was to complete what did not take place in the first. But which life and which marriage were they living, I wondered!
In any case, you can read my stories and dozens by generous folks who wanted to contribute to my reflections. In one sense this project was a test of memory for an aging professor who was invited to share a special day in the lives of many. Thank you all.
Hereafter, for the rest of my life I hope to remember was appears below. The comments and pictures are mine, but anything herein can easily and quickly can be corrected or removed. The "album project" was a gift with no financial rewards to me or anyone who contributed; all the rewards are spiritual or intangible, at least, for me, but my readers are encouraged to help me improve what you find here or to send me your story. If so, I am available as follows: