1990's
Weddings in the 1990's
What can be remembered about the decade of the l990's? That decade seems only a short time ago, and yet much has happened and so rapidly, that are minds may be becoming overloaded.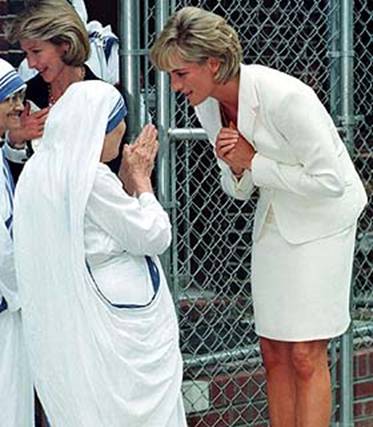 edinfo:dianatheresa9271.jpg
One memorable week from the l990's came back to mind with the picture above of Diana bowing to Mother Theresa. I recalled that that both of these memorable women died the same week in l997. Their deaths took place just as our academic year opened, where our attention was drawn to the streets of Paris then to the orphanage of Calcutta.
Diana's wedding with Prince Charles had taken place in St. Paul's Cathedral in London in l981, but sixteen years after the wedding and scarcely a year after their divorce, Princess Diana was killed in a mysterious automobile accident. Her life had almost mythic proportions when her funeral procession would be the most watched event in television history, and a million people stood on the streets of London to watch.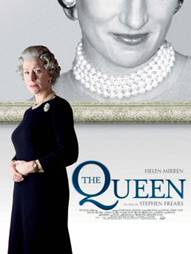 In 2007 the Academy Award for best actress went to Helen Mirren in "The Queen" about an aging, real queen who could not imagine the magnitude of Princess Diana's power. But many people had been drawn to Diana's wedding sixteen years earlier, which was the most watched wedding in the history of the world. One might compare a newspaper account of the Queen's television interview on September 3, l997 with the same scene in the film. (MacArthur, 48-49).
Otherwise, as I reflected on weddings in the l990's, I found other events which put my comments about weddings in historical perspective. For several, including the order, I am indebted to Peter Jennings, who offered the following:
1. 1991 brought the First Gulf War under another President Bush.
2. 1992 revealed the televised beating of Rodney King. The policemen who beat him were released without punishment, thus causing the LA Riot.
3. 1992 ushered in a lively, nation-wide debate with the controversial nomination of Clarence Thomas to the Supreme Court, prompting many citizens and others to consider whether or not he had harassed Anita Hill.
4. 1995 amazed television viewers in the O.J. Simpson Trial. His jury declared him innocent; and as a result, Los Angeles did not have a riot.
5. April 19, l995 brought the Federal Building in Oklahoma City to our TV screens as we watched it blown up by a home grown American terrorist.
6. The whole decade of 1990's afforded the immense success of Microsoft and Bill Gates. Now as I type on Microsoft software, I feel more than a little indebted.
In the '90s, I taught travel courses nine times to Japan during January interims, and I spent the whole spring semester of l997 in Salzburg. These experiences gave me somewhat deeper insighst into the lives of students by living with them in dorms, hotels and student hostels and seeing them 10 to 20 times a day instead just twice a week in a classroom on campus in Relands. I also benefited by a renewed understanding of the difference of perspective when one sees our country from abroad as opposed to just listening to the news about the world beyond Redlands each morning on television. Also several of the weddings annotated below are those for students who went abroad with me in this decade
July 17, 1992


Nearly all the weddings described in these comments are of family, friends and students.

But once a decade a friend gives my name to a couple planning a wedding and sometimes the couple convinces me to perform a ceremony.

In the summer of l992 while I was working on a project in the Huntington Library in San Marino about a Japanese poet named Yone Noguchi, a good friend in Pasadena, Heather Halpern, called and asked me to meet two friends of hers.

The picture below is of Mihoko Matsuda, a physician, and James Nelson, who was involved in real estate.

During a walk through the Huntington Gardens I came to like them. Hence

The background below is of the Japanese Garden at the Huntington, where they came to tell me about their wedding plans.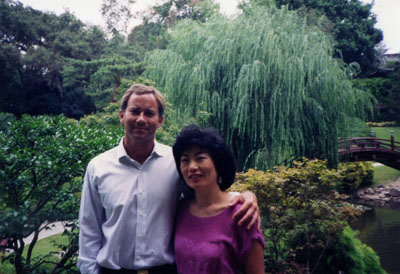 The wedding took place in downtown Los Angeles in a club. I remember feeling that the couple would benefit by my research in the Huntington Library as we discussed the wedding they were planning. I had been researching Yone Noguchi, a Japanese who came to America and discovered he could become a poet and in the English language, no less.While here in America married to an American woman, and their son became an architect and designer: growing up in both Japan and America, he left a strong mark upon 20th Century art. During the discussion with Mihoko and James, I told them I would liketo add a component of my study of Yone Noguchi,the Japanese poet into their wedding. My strongest memory of the ceremony was my reading a poem about a butterfly. "O Cho San" (Butterfly) ends:

Dim poems rose around her like odours

Unto the moon. She was beautiful as one

Who smiling, enters in the gate of Sorrow:

The earth upturned her melancholy face

Toward the heavens; the evening bell

Tolled as the last song of a sea.

'Beloved! Beloved!' she cried;

Her streaming eyes beheld a silent star."
But as soon as I finished reading the butterfly poem with the line about beholding a silent star, the mother of the bride stood up and offer her own poetic moment in the Haiku as follows: "Totsugu hi ni". On this day of a marriage tie,
A flower bouquet of harmony,
Sending your way. (In a commentary my esteemed colleague Yash Owada wrote: '"Wa' a syllable in the last word in the second line is a word with full of related meanings: harmony, peace, ring, tie, etc. It happens to be 'Wa' of Owada. Certainly that would be an important value to retain in a marriage.")
Then on September 26, 1992 I signed a wedding license in the County of San Bernardino for a ceremony I performed for Laurie Sauvage and Mark Buckwalter in Sylvan Park in Redlands.
Memorable, but not recorded, was the fact that their dog was one of the witnesses. Although he did not sign the document, he did demonstrate that pets can be a very important part of wedding celebrations.
Laurie was then an instructional assistant in elementary education, and Mark was an employee of the school district. I knew Mark as a close friend of David Hester, son of my colleague, Dr. Jim Hester. Laurie had been a student in my first year seminar on Japan and America, and I had known her even earlier when she enrolled with my daughter Kimberley, in an enrichment program in Redlands High School in l982. Their teacher, Bob Denham, asked me to do a presentation on astronomy, and I can still remember that Laurie asked very good questions.
Their wedding service, "What is Marriage?" showed the creativity of both Mark and Laurie, when they pondered the question, as follows:
"What is Marriage? It's a hard term to define, but there's no denying the fact that it ranks right up there with birth and death as one of the three 'biggies' in human sacrifice. Life has no singular meaning, so much as it is composed of many meaningful events- one being marriage. And it is the only one we celebrate with a conscious awareness. Very few of us remember our own arrival and even fewer will … (their death)
Pick a society, any society: Zuni, Nedembo, Pennsylvania Dutch, what's the one thing they have in common? Marriage. It's like a cultural handrail. It links people to the past and guides them to the future. That's not all, though. Marriage is the union of disparate elements – male and female, Yin and Yang, proton and electron. What we're talking about is nothing less than the very tension that binds the universe. When we look at marriage, we're looking at creation itself. 'I am the sky,' says the Hindu bridegroom to the bride, 'you are the earth. We are sky and earth united.'"
They asked for an exchange of rings, at which time Laurie affirmed, "You are my husband."
Mark responded, "You are my wife."
Laurie told Mark, "My feet shall run because of you."
Mark responded, "My feet shall dance because of you."
Both affirmed "My heart shall beat because of you.
My eyes see because of you.
My mind thinks because of you.
And I shall love because of that."
I asked: "Are you guys cool with that?"
They responded: "WE ARE" and kissed.
A kiss concluded the formal part of the ceremony and walked across the park to their home for the reception. Bob Denham reported recently that both have succeeded in their jobs in the school district and Laurie has become a successful teacher; I would have expected that.

The Wedding of Bob and Amy Tafoya
Also in October 1992, I conducted a wedding for Bob and Amy Tafoya in the Castle Green Hotel in Pasadena.
The setting was of an old hotel built about one hundred years ago. This wonderful century old building with hints of Moorish influencest became a favorite refuge during the winter months for people from the East Coast and Midwest fleeing cold winters. The travelers could disembark from their trains, after their continental journey, and cross the street to the hotel via a covered walk.
http://www.swensonsart.net/images/pasadena/port/290/castle_green

I knew Bob as a student at the University, but I met Amy the night of the rehearsal. I was surprised how many other students I had known at the University of Redlands which I arrived at the scene of this wedding.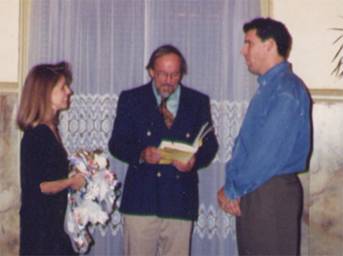 In the rehearsal the night before the wedding I shared with Bob and Amy some selections my copy of Arisian's THE NEW WEDDING:
"Dear friends and family of Robert and Amy, marriage and the union it symbolizes can be the most sublime of human experiences, for...love in its infinite manifestations is what life is all about. Today we come joyfully to acknowledge the decision of these two people –Robert and Amy_ - to share their lives. They have told us that the decision was formalized in Paris a year ago, which both knew was "love at first sight."
This picture captures the happy couple in the moments of the wedding ceremony during which I read the following:
"Love can be one of the highest experiences that come to humankind. At its best it reduces our selfishness, deepens our personalities, and makes life far more meaningful.
All significant experiences are of concern to our fellow men and women. Two people in love do not live in isolation from the wider embraces of humanity. To achieve love is not to be absolved of social responsibility. So it is that the institution of marriage is ordained as a public recognition of the private experiences of love and as a sanctifying of both parties to its greatest purposes.
"Matrimony symbolizes the ultimate intimacy between a man and woman; yet this closeness should not diminish but strengthen the individuality of each partner. A marriage that lasts is one that always has a little more to grow. The poet Rainer Maria Rilke once said that marriage is not a matter "of creating a quick community of spirit by tearing down and destroying all boundaries, but rather a good marriage is that in which each appoints the other guardian of his solitude….once the realization is accepted that even between the closest human beings infinite distances continue to exist, a wonderful living side by side can grow up, if they succeed in loving the distance between them no less than one another" (Arisian, 106).
They affirmed their vows with conviction and have made a good life together in Orange County, I heard good reports from their friend Becky Wiens.
Wedding of Melissa Love and Dwayne Beck

Dwayne Beck married Melissa Love on October 29, l994 on the pier at Chambers Landing, overlooking Lake Tahoe; it is one of the most beautiful places for a wedding on this planet!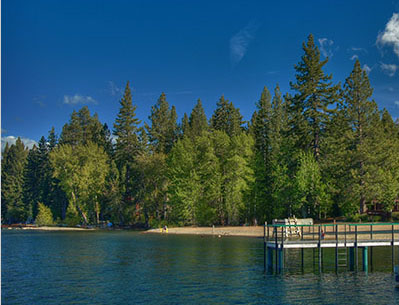 photo: chambers-landing-tahoe

I had known Melissa as a student in several classes in the l980's and remembered that one of her jobs had been as "Snow White" in Disneyland. None of the Seven Dwarves showed up for the ceremony, so I was a little bit sad, but one or all together they might have stood up during the ceremony and asked that the wedding be stopped, for clearly "Happy" was still in love with Melissa.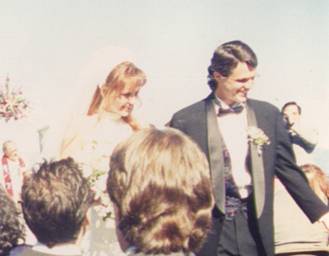 Dwayne is the son of Ginny Beck, who served in Larsen Hall as our Religion Departmentl secretary; and she knew more secrets about the minister in this wedding than any person in decades. Since Dwayne had come to Larsen Hall so often in his high school and college years, I now saw him that day transformed into adulthood as a bridegroom. Researching for this my "album project," I learned he has become a successful lawyer.
A memorable part of Dwayne and Melissa's wedding was the poem written for that day by Jim Harms, who stood and read his original "an Epithalamium".
"Rain in a wine glass left on the window sill.
It's noon, she's making coffee, a sheet wrapped around her shoulders.
She knows which song is next on the record, begins to sing softy
He is half-sleeping on the sofa, humming "Harborcoat"
into the sleeve of his robe, his face
striped with sunlight through half-closed blinds.
"She remembers their first summer, a fountain,
a square in the center of a city:
the folding wooden chairs, the old men in heavy shoes, black jackets
over their arms, playing cards or taking sun.
She is dancing with him though there isn't any music,
the gazebo empty, the band still asleep, music trapped in their minds...
And their dancing is a small act of public recklessness,
like spilling coffee on a white tablecloth.
Still, the crowd, the passersby, they turn to stare...at love perhaps,
or its expression, the casual twirl, a body folded in arms.
an old man begins to whistle to their movement...
"She sips her coffee, slides the glass door west.
The music rises, crows from a clothesline.
She moves out onto the balcony to feel the day, to a shaft
of sunlight at the far corner; she puts her hands in it;
He is waiting in the kitchen, cutting limes, two glasses rimmed with salt.
She moves to him, re-ties his robe, ready to fashion memory and hope
into love, it's their song.
And the shape two figures make embracing
is a horizon of hills reflected in water."
The ring bearer in the photo below was Jacob, the son of Steve and Becky Wiens. The woman with sun glasses is Jennifer Pancake, soon to be married to Jon Faye as my readers will observe in the very next paragraph.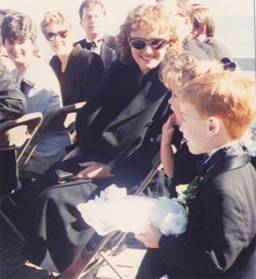 Now in 2010 Melissa wrote as follows:
"Our ringbearer, Jake Wiens, who you have a picture of in the book, is now 20 and a sophmore at Chapman majoring in music. Steve and Becky live around the corner from us and are 2 of our very closest friends."
And she sent pictures of her own family during a vacation in Hawaii.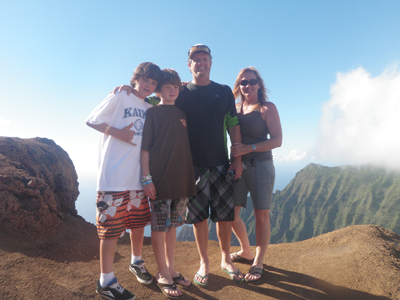 And another image showing their love of travel and vacations: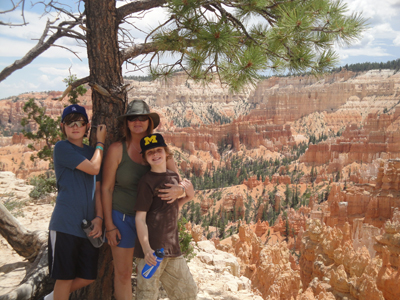 photo: messisamountains.jpg
Wedding of Jennifer Pancake and Jon Fay
:

On August 23, 1997 Jennifer Pancake was married to Jon Fay in the Castle Green Hotel. (cf above in Wedding of Bob Tafoya)
Jenni and Jon's ceremony was among the best organized I have ever attended, with a nine page protocol, a six page program of the wedding, which listed all the readings and music, and a six page ceremony all beautifully prepared. Now in 2011 as comments are added to this "album project," I can attest that this wedding is quite popular for folks who come to me to talk about weddings and after they read what Jenni and Jon produced in preparation for their own magical day. This is not a shock to me for Jenni was just that kind of student when she took my classes at the University of Redlands, always well prepared and able to share her ideas. It was no surprise when she graduated from law school and passed the bar.. Should I ever need a lawyer in her specialty, she would be the first I would call. Some couples stayed in touch with me; some did not. But Jenni and Jon have come back to campus several times and have sent pictures over the years. Their ceremony along with the picture below which came on a Christmas card helped inspire my notion of annotating this album.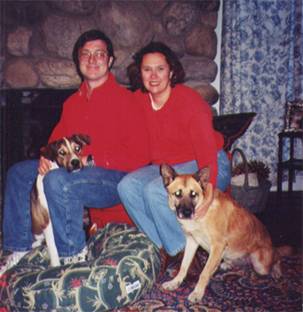 Jenni and Jon's shirts merged into one, bringing not only a color of the season but a sense of the joy they seem to have found in each other and their dogs.
When Jenni brought Jon to meet me to discuss the wedding, she showed a list of 28 people who had graduated from the University of Redlands. I could remember 22 of them from my first year seminars, world religion classes, or travels around the world. I had never before known so many guests at any wedding in my life.
The Processional for the attendants was to the haunting Welsh folk song, "The Ash Grove."
Next I entered with Jon and the groomsmen, as Bach's "Jesu Joy of Man's Desiring" was played; and then bridesmaids came down the aisle. Jenni and her dad, Jim, entered with the powerful "Ode to Joy" from the Ninth Symphony of Beethoven.
I then gave a welcome with the familiar lines, "Dearly Beloved, we are gathered together here tonight to witness the marriage of Jon and Jenni. 'Dearly Beloved' is a phrase truly meaningful on loving occasions, but all the more so tonight in this gathering of Jon and Jenni, who have chosen you as witness to their vows. So you are indeed, their 'dearly beloved' as you gather to affirm their union in marriage. A wedding ceremony is but an outward form which is a symbol, a ritual of something quite inner and real...
(Such as) a sacred personal union which nature might mirror, or a church solemnize, or a state declare legal, but which only love can create and mutual loyalty fulfill."
I reminded them that marriage is not to be entered into lightly, but with certainty and with mutual respect (we skipped the part about "If anyone here present knows any reason....")
I remember smiling as I read, "the sense of reverence does not preclude beauty, humor or joy" for an image flashed through my brain of Jon's dad, Peter, giving us some instruction from the roof of his house at the rehearsal the night before.
Continuing, I read as follows:
"love can be one of the highest experiences that come to humans for it reduces our selfishness, deepens our personalities and makes our lives far more meaningful than we can imagine….
matrimony can bring the greatest intimacy between a woman and a man, yet the closeness that comes should not weaken but strengthen the individuality of each… And marriages which last are ones which allow each to grow." (Arisian, 106) The picture on the Christmas card with their two dogs captures a sense of their intimacy in which their red shirts have blended and the dog resting his head on Jon's leg shows calmness in their home.
Then Jenni's friend, Catherine Stebbins, read a poem- "Love" whose author is unknown.
"I love you, not only for what you are, but for what I am when I am with you. I love you not only for what you have made of yourself, but for what you are making of me. I love you for the part of me that you bring out;
I love you for putting your hand into my heaped-up heart
and passing over all the foolish, weak thing that you can't help deny seeing there and for drawing out into the light all the beautiful belongings that no one else had looked quite far enough to find. I love you because you are helping me to make of the lumber of my life
not a tavern but a temple; out of the works of my every day not a reproach but a song....."
Then I asked them to face each other, take each other's hand. Jon said, "I take you, Jenni to be my wife, the mother of our children, to be the companion of my heart...to have and to hold.....until death might part us".
Jenni replied, "I take you, Jon, to be my husband, the father of our children, and the companion of my heart- to have and to hold....until death might part us."
I asked all present, "Will you do your utmost to support this marriage?" They affirmed in union "We will!"
A wonderful moment during ceremony occurred when Jon's sister, Lisa Fay, read from one of A.A. Milne's "Winnie the Pooh" stories in which Pooh and Piglet were walking in the fog and felt that they were lost in a forest:
"Piglet sidled up to Pooh from behind. 'Pooh!" he whispered.
'Yes, piglet?"
'Nothing,' said Piglet taking Pooh's paw. 'I just wanted to be sure of you.'"
(Now in 2007, as I typed the lines above, I felt the power of Pooh's paw myself.)
Lisa Far quoted Mark Twain's line "Marriage is a great institution, especially for the children," recalling the times that she and Jon listened to their dad reading stories that had more meaning later as they recalled the "ideals of friendship and love that we should all strive for."
I asked for the rings which were an ancient symbol, blessed and simple, round like the sun, the eye and the arms that embrace, and that these symbols represent your love for each other and the love given that comes back round again and again.
Both Jon and Jenni stated "...with this ring, I marry you and join my life with yours."
Then, I read an English translation from the Sanskrit text "Look to this Day:"
Look to this day!
For it is life, the very life of life. In its brief course lie all the varieties and realities of your existence:
The bliss of growth; the glory of action; the splendor of beauty;
For yesterday is already a dream, and tomorrow is only a vision;
But today, well lived, makes every yesterday a dream of happiness, and every tomorrow a vision of hope.
Look well, therefore, to this day! Such is the salutation of the dawn!
An unknown author's Apache Song was read by Jody Stefansson.
Now you will feel no rain, for each of you will be a shelter to the other.
Now you will feel no cold, for each of you will e warmth to the other.
Now there is no loneliness for you; now there is no more loneliness.
Now you are two bodies, but there is only life before me.
Go now to your dwelling place, to enter your days together.
And may your days be good and long on the earth.
Following the poem, I noted that they had exchanged their vows and given rings, and I then declared that they were husband and wife. I asked all present to honor them and the "threshold of their house, hoping they might carry into their marriage the beauty of the history of this place, and that they would dwell in the love, caring and excitement which all felt here tonight. I presented to their family and friends this married couple, asked them to seal their ceremony with a kiss, and we all walked out to Mendelssohn's "Wedding March."
The last page of the program contained not only the order of the toasts but the menu of the wedding supper, which makes me too hungry today to continue writing.
Wedding of Dulce Maria Trice and Gary Giannoni
:


On December 20, 1997, Gary Giannoni married Dulce Maria Trice in University Hall of the University of Redlands. Their wedding was memorable for many reasons. First, the setting was held in the newly restored University Hall, which in pre-Appleton times, had long been the dining hall. This was the first time for me to imagine that building as "sacred space" as a scene for a nuptial exchange of vows.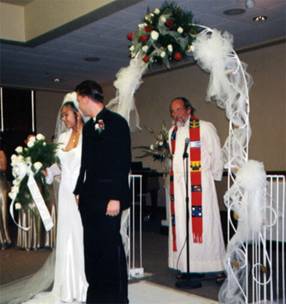 Secondly, the wedding for me was an example of the wonderful diversity of people who came as guests to the wedding. Ancestors for the bride and groom represented the global age in we live. Their ancestors had come to America from different continents, having crossed different oceans. Here on our small university campus in California, "a prince" with an Italian name could meet and fall in love with a "beautiful princess" whose roots were far from Italy.
Moreover, their bridal party showed the ethnic diversity on our campus that was an expression of the feeling in many places in America in the l990's. No such a wedding party could have happened in my college years in North Carolina, and looking back at their wedding pictures, I could remember seeing some of the bridesmaids in their "WRW" sweatshirts, affirming that women come in many different shades on our planet and on our campus. Those letters stand for Wadada Wa Rangi Wengi (a Swahili phrase for "Sisters of Many Shades."
Moreover, the picture above, which I took of their bridal party, showed the ethnic diversity on our campus that was an expression of the feeling in many places in America as the 20th Century came to an end. No such a wedding party could have happened in my college years in North Carolina, and looking back at their wedding pictures, I could see the bridesmaids in school annuals with "WRW" on their sweatshirts affirming that women come in many different shades on our planet and on our campus.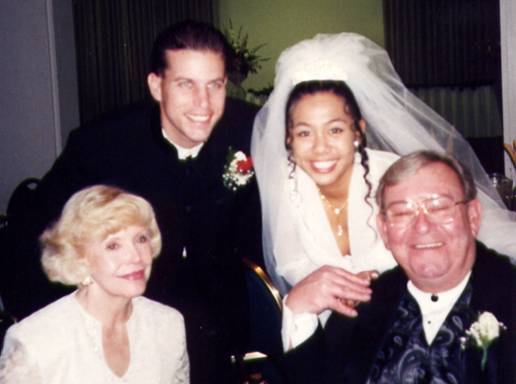 I also liked the pleased look on the faces of the groom's parents, especially Gary's father, after the ceremony.
I especially enjoy ceremonies when I know both the bride and the groom. One such opportunity was on January 3, l998 when Ari Horton married Ed Kesler in the Chapman University Chapel, in Orange, California.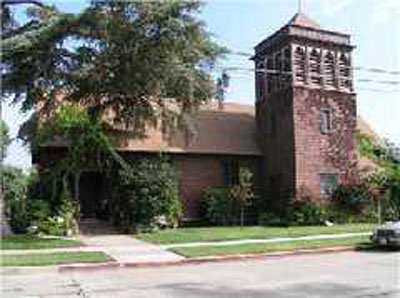 I had taught both Ed and Ari in the same world religions class the year before, and both had done excellent work. Ari was a very well-prepared student for every class. She had a talent many students of biology share in her delight for detail. In many ways, a world religions class can be compared to an anatomy class, for each has lots of terms to remember.

As another kind of indication of her being well prepared, Ari had an extra copy of the ceremony for me, just in case I might have forgotten it and had to go back to the car. "What an organized young woman," I remember thinking. They said their vows with conviction than on that sunny, winter day. Ari read "Hymn of Marriage and together they read "Why Do I Love You?" by Roy Croft.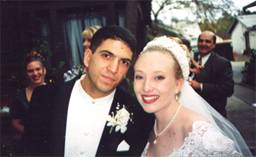 The little chapel itself added to the intimate mood. It seats only about 100 people and is located on a charming side street. I learned the use of the building was mostly for weddings.

Ed had orders to report as an ensign in the Coast Guard following the ceremony, so a wedding reception at the nearby Yacht Club seemed a suitable setting after the wedding ceremony concluded. I took the picture above just as we prepared to leave the chapel.
Then I downloaded the following of the reception at the Yacht Club.
During June l998 I did five weddings and no funerals.
Was it something in the orange blossoms of Redlands that year? I saw no "Puck" blowing his secret fragrance during my classes to sleeping students. But "Five weddings and no funerals" would keep me quite busy in what might have otherwise been a calm summer vacation.
The Wedding of Martina Barth

On June 1, 1998, just after her graduation from the University of Redlands in Asian Studies, Martina Barth, who had been born and educated in Stuttgart, Germany, wed Ken Townsend, a native of Redlands. Martina had taken my world religions class and had been an advisee for two years. She asked me to perform a wedding for Ken, whom she had met while he was stationed in Germany. Martina was very gifted in the study of languages. A native speaker of German, she also mastered English with no accent, and then she studied Japanese here.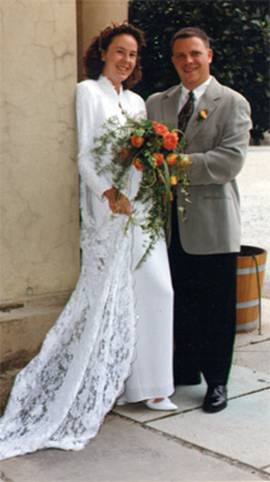 Her wedding was conducted under the East Portico of the Memorial Chapel, in the bright sunlight on a very hot day. The ceremony did not have the advantage of the clouds in the image below, but the setting was unique to me at least, just outside the Chapel doors, almost as if a return to the Medieval Era in Europe when the weddings were held outside, after which the bride and groom would enter for a blessing. Later after the Council of Trent the event became a "Sacrament" (cf. above in "Weddings around the World" then "Weddings in Christianity).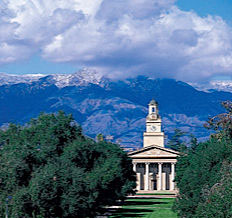 The smile on her face may have appeared because we had finished the ceremony or because she was thinking that she would soon be cooler than she currently was in her beautiful wedding dress. Within ten minutes after the picture above was shot, she took off her shoes near the University Club, pitched them on the steps, and walked right into the fountain, in full wedding attire. What a wonderful video-moment that would have been!
Thereafter, she went into the restroom, took off the wedding dress and appeared in an entirely new dress, as if she was ready to go on their honeymoon. From Martina's wedding, I learned that I might never guess that a bride may not only feel like walking through a fountain, she might just do it! Someday I will do likewise; with Martina, it would have been fun!
(8). The following week, on June 6, in a park in Highland, I pronounced Jill Jes, the News Editor for the San Bernardino Sun, and Dan Cahir, Copy Editor for the same newspaper, husband and wife. Thereafter, a gathering of friends and family withdrew to their home in Highland for their reception. Can I really have no picture of this event?
The wedding of Joy Duran (as witnessed by the Mussman cat).
.

On June 18, I performed the wedding for Joy Duran and Richard Steele of Virginia Beach, Virginia.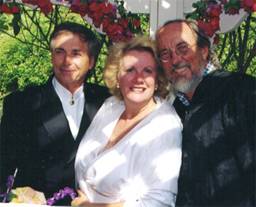 Joy is a sister to our then Librarian, Klaus Mussman; at his home on Highland Avenue the wedding was performed. The wedding party was among the smallest of any such event I have ever celebrated. The total group included Joy, Richard, Klaus and his wife, a photographer, myself, and the Mussman cat. The work of the photographer was quite proficient, and I knew that as soon as the wedding was completed he would have produced a product that would be widely shared with friends and family.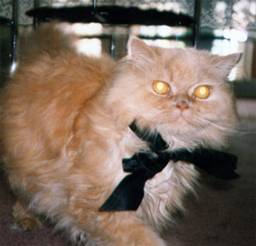 The most unusual member of the wedding party was the Mussman family cat, who had been well adorned for the wedding by a black ribbon. He looked so intently into my eyes (lens) that I thought he must have recognized me from a previous wedding!
The Wedding of Julie Harmon
:


On June 27, 1998, Julie Harmon, who had worked as an Administrative Assistant in Student Affairs, was married to Jim Hardesty from Fallbrook.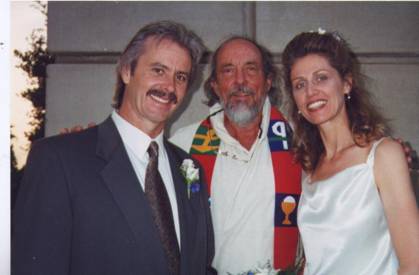 The wedding was held on a warm summer evening on the North side of the Hall of Letters and the reception on the South side. My strongest memories were of the dancing, the joyful dancing that all there seemed to enact. While children of previous marriages are often suspicious and withdrawn at times when a parent brings a new partner into a marriage, but I have never seen a happier person than Julie's daughter at the reception.
I think that there must have been a requirement that one could dance to be invited to this wedding. Somehow I got in without that skill, but I learned from the wedding how powerful dancing can be as part of the celebration of people being married. From ancient times, I imagine dance was important in weddings. June 1, 2007 brought this email from Julie:
"Hi Dr. Huntley,
Hopefully it is not too late to respond to your letter RE: a contribution to a book you are writing about weddings. I hope you are enjoying your Sabbatical and making nice progress on your book.
On June 27th Jim and I will celebrate our ninth wedding anniversary. It seems so much longer than only nine years! :)
I am including three favorite wedding pictures as attachments to this email. There is such a sense of joy in our faces in two of the photos. In fact, I vividly recall being overtaken by feelings of utter joy as we walked together down the aisle as man and wife with our children in tow. And, I like the one photo of all of us together as all heads are bowed and you are saying a prayer -- that is except for my daughter Kate. Every time I see this photo I cannot help but smile at her complete irreverence as she is gazing out over the guests with that a mischievous grin. She is definitely the rebellious one.
One of the best aspects about our wedding, besides our wedding vows, was that our children were present and involved in the marriage ceremony. Jim and I wanted the kids to embrace the day and feel part of all of it. During that time, Jim's children, Remy, 15, and Luke, 9, and my daughter, Kate, 11, struggled with what are probably very common feelings of being unsure as to whether to feel happy or sad about their parents impending marriage.
Jim and I made a point of involving the kids and having each one participate in some aspect of the ceremony so as to create a sense of belonging together in what would soon become a blended family situation. Kate and I walked down the aisle together to meet Jim, Remy and Luke at the altar; the kids stood with us throughout the ceremony; each child brought flowers and gave them to me during the ceremony -- I then tied all the flowers together in my wedding bouquet; Remy recited a poem; Luke held the wedding rings.
For the most part, the past nine years have been very happy. Jim and I continue to be best friends. I couldn't imagine life without him or being with anyone else. We love each other immensely. The fact that we have a loving bond between us has been instrumental in weathering the storms and stresses of a blended family. If we had allowed it to happen, the kids could have created division between us along the way. It can be difficult to embrace another person's child and truly become a family in the truest sense of the word. But we did it! And, honestly, we are all quite content in our life together.
Remy, 24, graduated from UCSD in 2005 and works for Bainbridge, Inc., a management consultant company in San Diego. Kate, 20, has turned out to be a bit of a late bloomer, is going through a phase and continues to search for her place in life. All we can do is cross our fingers and remain confident that she will come through with flying colors. Luke, 18, just finished his first year at UC Berkeley where he is majoring in physics and minoring in music. We are proud of all the kids and love to see them when we gather together from time to time.
Thank you for your letter, Dr. Huntley. I apologize for taking so long to get back with you and hope this information is helpful in the process of writing your book. It would be great to see you sometime. I miss so many people from the University. Working there was one of the best times of my life. I'll have to make a point of dropping by one of these days.
Best Regards,
Julie Hardesty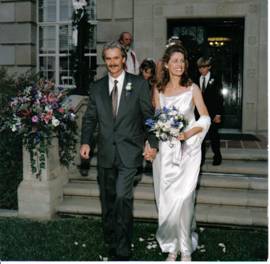 The wedding for Suzanne Knadler.

:



I had known Suzi for five years, from her first year at the University of Redlands when she enrolled in the first-year Chinese language class. To be personal for a paragraph, I was in the same Chinese courses with her for three years. She was the "A" student all three years, and I was a slow "B." She was in her late teens/early twenties then, and I was sixty. The disparity of our grades was not just differences in the brain powers we inherited, but her skill reminded me that age reduces learning speed. Nonetheless, I also learned in these courses with Suzi that I did have an ability to learn a language on the downhill slope of life. She was a joy to be in a class with, for although she knew many more Chinese words during every semester, she was always kind as she reminded me of what had slipped out of my memory from the day before.
She also took my Masterpieces of Asian Literature course, in which we read English translations. By then she had returned from her year in Beijing and brought back keen insights from her sense of recent history and new translations she had discovered there. Also, we were both able to serve as character witnesses in the San Bernardino County Court to help out UOR Chinese professor Dr. Ching, but that is another story already recorded in a court of law.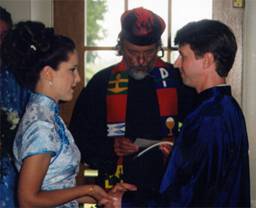 On June 28 in the Alumni House, Suzanne Knadler married David Roberts. Suzi met David Roberts while they were both studying Chinese in Taipei after graduate school, and there they became engaged. But this creative twosome did something no other couple has ever done in a wedding I have attended. Their achievement was reported in The Redlands Facts by the "Our Town" writer who noted that "the entire wedding party wore Chinese attire, which the bride and groom brought home from Taiwan." In fact their preparations were so complete that Chinese costumes for the entire wedding party had been custom-tailored in Taiwan before the bride and groom returned to the United States.

David and Suzi's father were dressed in dark blue jackets with high, Mandarin necks. Suzi wore a light blue/silver full length qipao (traditional Chinese dress). The groom wore the traditional male magua worn for weddings. Her mother and the four bridesmaids wore a more vivid blue color. The ring bearer wore a dark blue outfit with a Chinese school boy hat. I borrowed a costume Professor Ching loaned me: a gown and a hat, which he said looked so natural on me at the wedding that he gave them as gifts the next week.
I thought I was wearing a scholar's hat, a Confucian hat; yet, the reporter wrote that I wore a "festival hat." It must have looked like a festival to the reporter.
The only thing in my attire which was not Chinese was my stole. It came from Guatemala, but I don't think anyone noticed or cared.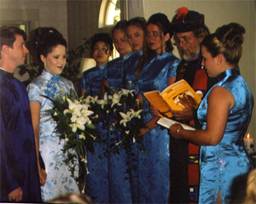 It is clear from the picture above that I was using a ceremony from the New Wedding. Alas, I know Arisian included no ceremony in which Confucius was the major figure. But Suzi and David, as in this picture and thereafter, have demonstrated the devotion to one another which Confucius would appreciate.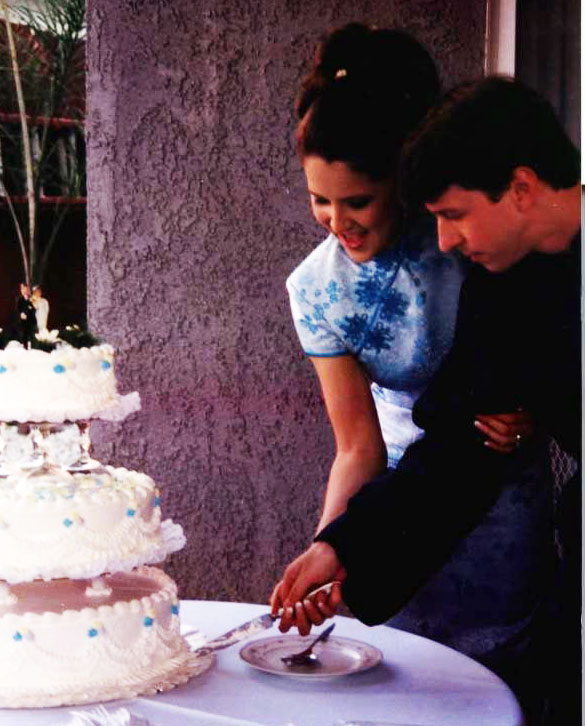 Notice the two figures on the wedding cake, how close they seem to be standing! Cake cutting was an innovation in the l950's that I only recently learned came about in an affluent time in our nation's history when we needed more than icing on a cake to make it tell a story.

Suzi recently sent a comment as follows:
I have many memories of our wedding and the days leading up to that. It was truly an adventure coming home after three years in Taiwan (where we met) to get married and start a new life. It was a big step for us both and we were excited yet nervous at the prospect of doing both. Another thing- let me tell you that if you truly want stress, try planning a wedding entirely from overseas! Thank goodness for my mother!

I came back in May, a month before the wedding, in order to finalize last minute details such as flowers, the cake, etc. Poor David was left in Taipei to finish shipping our stuff that we didn't sell back home to where we thought we'd be. (Many of the boxes didn't arrive for months, giving new meaning to the saying 'the slow boat from China!')

One of the best things I think of when I reflect on our wedding day was that it truly reflected our personalities. It was a Western wedding with a distinctly Chinese style, which seems very apt for two Mandarin-Chinese speakers who met three years before at our first Chinese class at The Mandarin Training Center. I never would have thought that I'd meet the person I wanted to spend the rest of my life with so far away from home and yet that person would also be American!

Everything went so smoothly during the wedding except for the funny part where my three-year-old nephew (the ring bearer) rushed to the front to blow out the Unity candle. Fortunately, my cousin Kristi and friend Tamara were the bridesmaids standing to the side of the candle and they moved to block him from doing so! Do you remember that? These were formidable women (they are 5'9" and 5'11" respectively) and it looked like I had my own wedding guard…….

Currently we are in the midst of doing late-night packing to leave to my parents' house for Easter. Our six-year-old daughter, Maia, is excited about hunting for Easter eggs and going to my folks' house. My Mom is doing a church production of "The Last Supper" that we will see tomorrow. David is going to be a guest reader in Maia's class and after that we are taking her out early to head out of town. A vacation is definitely needed by all.
Suzi
A emorable wedding was held on October 17, l998 in Bodega Bay with one of the best exchanges between and bride and groom I have ever heard. Then after being recorded in this "album project," the couple wrote me in September 2009 that because of the photos they feared one of the clients she was treating might become psychological "disturbed" and try to harm her family. Indeed, she report some clients had been sent to psychiatric settings, so for" safety's sake and death threats please remove all the pictures and names"
I did so immediately and removed them from the web.. But the text of what they shared with each other in the process is so moving to me and perhaps to others, I will make an edited version, with no names and pictures. It was never my intention to put any of those who invited me to weddings to put them in harm's way, and I will remove other sections if I am asked to do so.
The couple came to our home in Redland; then later the wedding was a joy to perform, for the bride and groom were so articulate about what they wanted and what should not happen. Their vows as listed below were among the best I have ever heard read in 50 years of weddings. Moreover, the subsequent commentary is in my opinion the very best message I have received about what happened after the ceremony.
Thank you both, and may you have peace and joy in the years ahead. I can imagine a rich life for you and together!
The setting, outside with the Pacific Ocean only a few yards away, in a garden filled with flowers and family, they promised each other vows taken from the Arisian book, but they added a list of others, such as the following:
"I vow to have a home filled with laughter by maintaining a sense of humor towards whatever may befall us.
to maintain a garden of beauty and sustenance, and extend our appreciation of life with excursions into nature.
to support the pursuit of our personal interests and whatever career or life changes or risks we may be called upon to take.
to hold and nurture each other through the pain of loss and illness sharing all things, believing that joys will be doubled and sorrows will be halved.
to sustain openness, respect and encouragement for each other's spiritual beliefs and values.
to kindle and rekindle passion throughout our years.
to commit to the journey through all the chapters ahead."
The groom offered a creative reading based on the poem "How do I love thee? Let me count the ways."
He included reference to the bride's intelligence and wit and the fact that she would agree to marry him.
The bride's l reading mentioned admiration for the groom's ability to stand up when he saw injustice occur, the way he plumped pillows for her to sit beside him while appearing nonchalant at other moments during a class in writing in which they met, his planting of sunflowers for her, great feasts for her family and friends, his holding her through her father's death, his encouragement to take risks and his reminding her that she has a great reservoir of strength when climbing waterfalls and granite cliffs. Thus after two years, she affirmed, now I "stand here beside you, to tell you that I love you."
The Weddings for Melanie Culver


On June 12, l999, I performed a wedding for David Gordon-Ross and Melany Culver, who had been a student of mine in a world religions class the year before. Her mother, Linda Lindenberger, had also been a student of mine in l998 in the PACBELL program through Whitehead College (now School of Business). Her mother was my driver to Riverside when my trusty 1982 VW ended its service for me.
The wedding was held in front of the University of RedlandsChapel, with a memorable moment standing and waiting for a horse drawn carriage to arrive so that we could proceed with the ceremony.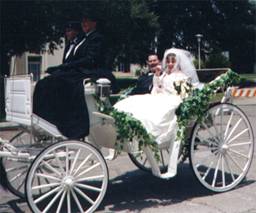 Sadly, I learned that David was killed in a motorcycle accident in June 2006, almost on the 8th anniversary of their wedding.
But in 2009 I was asked to conduct a second wedding for Melanie, when she married the best friend of her deceased husband, this time with no carrige, but more importantly she brought the son of her first husband to this ceremony in the Alumni House at the University of Redlands. The wedding demonsratated Melanie's courage in which she overcame her grief at her first husband's death and went to find his best friend, Walter Ryan, whom she knew was unmarried and would make a great father to her son.
The wedding of Chuck Rathfeder and Sara Schjelderup.

and

On July 4, 1999, I was able to have a small part in the wedding of Chuck Rathfelder and Sara Noel Schjelderup, for both had taken my Hebrew language course at the University of Redlands. they also watched over our home on Pacific Street over the course of the spring semester of l997 when we were in Salzburg .
During their wedding, I remembered the jest my Jewish dentist had made some years before when he learned that I had met my wife while studying Hebrew one summer at Princeton. He observed that it was the first time he had thought of classifying Hebrew as among the "Romance Languages." Both Sara and Chuck did so well and challenged other students to keep up with them; yet, I wonder if they ever use the language in their lives together or as high school teachers.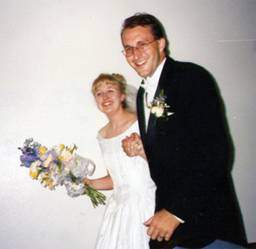 The role I had in their ceremony was to read a psalm in Hebrew. I picked Psalm 23, although I know the poem can be read (and prayed) in many other contexts. The wedding was held in the Edwards Mansion in Redlands in the rear amid a very green and serene setting.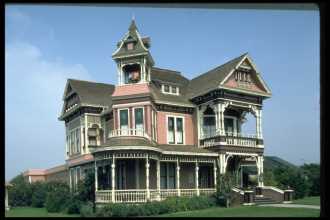 Photo from the Edwards Mansion website
Upon received credentials from the University of Redlands as teachers, they both took up this noble profession and have I am certain become strong influences in the lives of the young people in their classes. Sadly I must report that never again in my career in the last decade did the the Hebrew language course lead any couple down the wedding aisle.
The wedding of Bethann and Dave Corey


I
I was not present on April 17, l993 when Bethann and Dave Corey were wed, but, indeed, I was the unknowing "matchmaker" in the period when they first began to date, for they both in enrolled in my World Religions class. I can remember the two of them sitting there all semester, always side by side, sliding their moveable seats a little closer every week. It was very clear to me that something "magical" was happening in their relationship. They seemed to have these very same smiles on their faces at the end of the semester.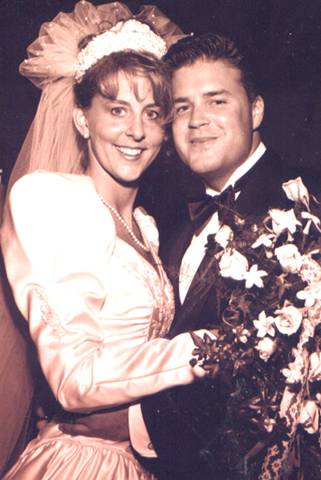 But the picture above acutally somes the joyful moment on the faces of each on the day of their wedding. They seem to have moved even closer to each other than they were sitting in class that semester in World Religions. I would guess, however, that one or perhaps both of them dreamed of this moment in Larsen Hall that semester. Certainly, the looks on their faces attest to such a dream, which came true in the ceremony.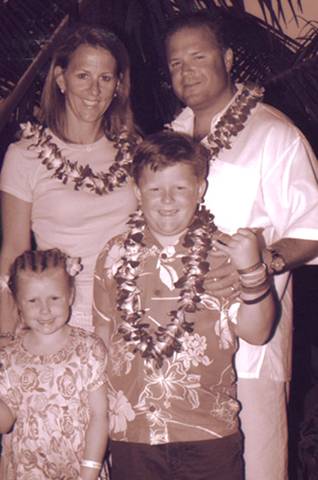 Now here they are in the Old Lahaina Inn, at Luau on Maui with their two children, Chase age 8, and Isabeth, age 5. This week, Bethann asked if I would celebrate the renewal of their vows with them next April, and I agreed. Bethann has served in a major role in the UOR in finding the scholarships which make it possible for students to study here in the Financial Aid Office as "Special Projects Consultants." In May 2007, she then took on responsibility as "Interim Director of Admissions" in the School of Education.
I played a very small role in a wedding for two people whom I had never met, in the summer of l997, when just back from Salzburg. I had let my beard grow long, and was feeling the summer heat, so I went up to Oak Glen to cool off and eat a slice of apple pie. There, I met a woman with two horses and a carriage.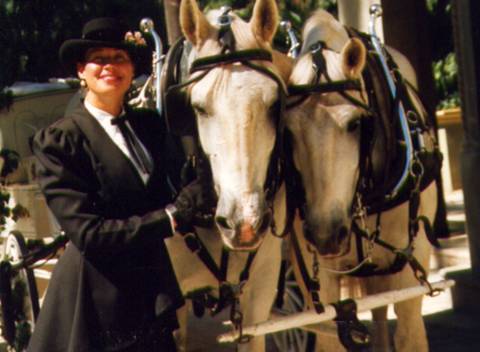 I remember her name, "Cindy." I told her that I sometimes performed marriages. She then gave me her card, and said, "I have an extra costume in the back. Put it on and act as my handy man!" We discovered that her extra costume fit, and for my work she gave me a dollar bill.
That was my only time to appear in such a role in any wedding. My smile suggests I enjoyed the role! Indeed, one earlier reader said it is the best picture of all. Maybe it was the beard, or was it the costume?
What a wonderful decade! Fourteen weddings in ten years, or a wedding a year, except for the strange summer of l998 with five!
" A flashback." My folder of wedding licenses also has a copy of the license I sent to the County of San Bernardino for the summer of l993 forChristopher William Chandler, an official in the forestry service, and Evelyn Nelson, an enviornomentalist, who were married in the gazebo of the Alumni House of the University of Redlands.
My favorite picture from their wedding album is of them leaving the ceremony, moving uphill on the grass toward the Alumni House.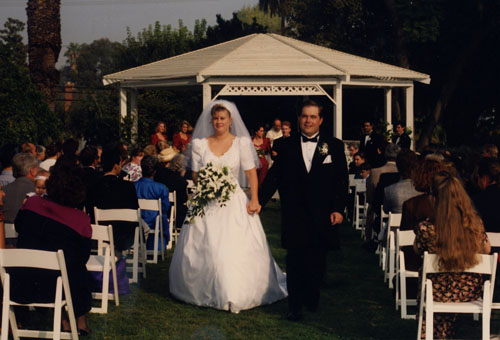 They remembered that they had worked hard on the ceremony which they wanted used, and they managed to obtain the best photo album I have seen in the hundred weddings in this "album project" Here they are seventeen years later remembering that October day.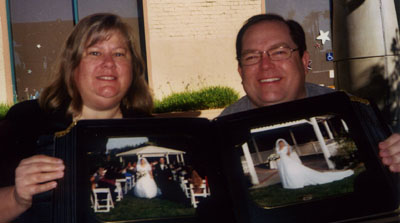 I managed to make contact with them in November of 2010 using "White Pages" to find they had moved to Redlands and the phone book to call them. All the while for the last decade they were living on my route home each day I must have passed their home a thousand times, while wondering where they were.
. We had a marvelous day together in November 2010, remembering the wedding and looking at their photo album. The told me again of the years leading up to the wedding. Chris had been in my world religions class his sophomore year and remembered the promise I always make to encourage students in their work and to show I am interested in what happens to them after their college years end. So he asked me to fulfill the promise I had made 5 years earler and perform their wedding. In those years, he had started a career in forestry and fought some of the California wild fires. Meanwhile, Evelyn had gone to Thailand in the Peace Corps; and, very importantly, Chris had visited her there twice.
I asked them what advice they would give to others who are thinking about a wedding or how to make their marriage last.
The responded as follows:
(1) Don't take your self too seriously, and laugh a lot.
(2). Buy a house together soon, if the price is one you can afford.
They reminded me that both their parents had lived on the East Coast, even global heritage each of them brought to the marriage. Evelyn's mother and dad met in New York City, where her father, a businessman from New Jersey,was working and her mother, from the Netherlands, held a position in the Dutch Embassy. Chris reminded me that he was a descendant of the pilgrims on the Mayflower, which anchored off Plymouth Rock in 1620, at least a grandmother eight or more generations back. Her husband was on the very next vessel a bit later, who carried the name Chandler.
I wondered to myself, if their fate was sealed by the fact that their immediate parents had moved to California and brought their children, Chris and Evelyn to the University of Redlands OR would they have eventually met in New England, so in love and so bonded they seemed in the seventeen years since I had seen them. Thanks Chris and Evelyn for responding with such affirmation for my invitation to a cup of coffee or tea, thanks for bringing the album and all the memories. You made my day last week!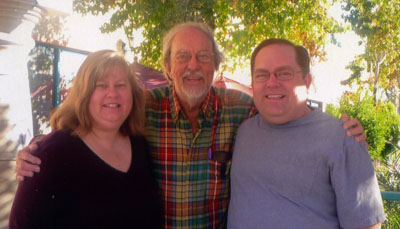 What a wonderful decade! Seventeen weddings in this file!!